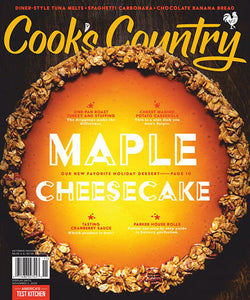 Cook's Country
Print Subscription
Regular price
$19.95
$0.00
Unit price
per
Cook's Country Magazine is filled with large, full-color, ad-free, approaches to country cooking. In Cook's Country you get succulent recipes, equipment resources, and "how-to" guides for challenging dishes. Watch your home-cooked meals become easy and perfect to the taste.
| | |
| --- | --- |
| Country: | United States |
| Language: | English |
| Publisher: | America's Test Kitchen |
| Frequency: | Bi-Monthly |
| Issues: | 6 |
Fabulous
I've never had a problem following these recipes. They always turn out great!
Great Magazine!!!
This magazine not only gives easy to follow, kitchen-tested recipes, but also gives explanations on what was done in the test kitchen to get the recipe to what it is printed in the magazine. They tell you what they did that didn't work and what they did that did work to make the recipe the best. I also like the reviews of cooking items as well as food. It makes me a more educated cook. I also LOVE that there are no ads so you know if the magazine is recommending something it's because it's a good product not because they were paid to say it.
Great magazine
A wonderful and comforting cooking magazine.
If you cook, you'll love this mag
The recipes are always tasty and come out perfect. There is always a low fat recipe that tastes great. I always go to for menu ideas when I entertain.
Great Food
I just love the recipes that are offered in Cook's Country. All are excellent and tasty. I never worry about using one for the 1st time on company. The magazine is of great quality and it has no ads cluttering up the pages. I'll be a subscriber for life!!
---