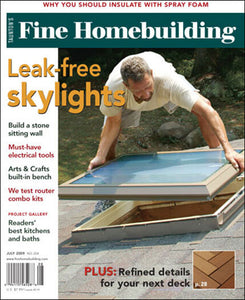 Fine Homebuilding
Print Subscription
Regular price
$37.95
$0.00
Unit price
per
Fine Homebuilding is the largest and most trusted residential construction magazine around. Every issue has the information you need to build better, all written by the guys who swing the hammers.
| | |
| --- | --- |
| Country: | United States |
| Language: | English |
| Publisher: | Taunton Direct |
| Frequency: | Monthly |
| Issues: | 8 |
The bible for home repairs & building
Many magazines offer help but for the top of the line information this is it. The top proffesionals in home building and rebuilding present clear explanations of what they do and why. The photos and diagrams are abundant and clear.#BR#If your just interested in hints or pretty pictures of designs the other home rebuilding magazines will be better for you. If you want to know the best way to do repairs and the theory behind them you will love this magazine.
The quality shines through.
If you've ever read any books by Taunton press you'll recognise the expert level of craftsmanship in Fine Homebuilding magazine. I read mainly for the expert tips and product updates. They also try to focus on environmentally conscious techniques without preaching the benefits of granola overly much.
---