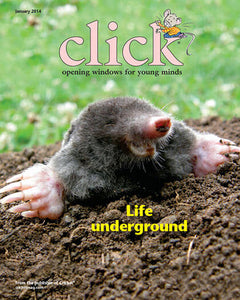 Click
Print Subscription
Regular price
$33.95
$0.00
Unit price
per
Click magazine unlocks the universe for young children (ages 3 to 7) by introducing them to science, art, nature, and the environment. This award-winning magazine is devoted to better explaining a child's world.
| | |
| --- | --- |
| Country: | United States |
| Language: | English |
| Publisher: | Cricket Media |
| Frequency: | Monthly |
| Issues: | 9 |
Great magazine subscription for kids!
Here are some articles that you'll enjoy when you subscribe to Click: How is a house built? Why do camels have humps? How do wasps make nests? What is an insect? What do animals eat? Why do birds migrate? How do planes work? Why does it rain? Young children also delight in the fun activities included in each issue such as games, mobiles, and flip books. Click magazine is filled with amazing photographs, beautiful illustrations, and stories and articles that are both entertaining and thought-provoking.
---