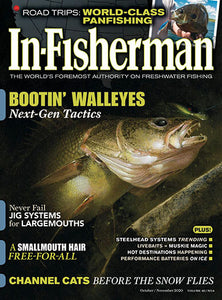 In Fisherman
Print Subscription
Regular price
$10.00
$0.00
Unit price
per
In-Fisherman magazine is written for the ardent freshwater angler. Each issue supplies the reader with definitive instructions and demonstrations for catching, cleaning, and eating their favorite species of fish. For the environmentally conscious fisherman, In-Fisherman reports the latest scientific studies concerning fish and habitat conservation. In-Fisherman is the source for finding fishing hotspots, new tackle, effective equipment, and much more!
| | |
| --- | --- |
| Country: | United States |
| Language: | English |
| Publisher: | Outdoors Sportsman Group |
| Frequency: | Monthly |
| Issues: | 8 |
My husband loves this magazine
I bought this for my Husband for Christmas and he loves it because all the articles are about the kind of fishing he likes. Freshwater fishing. With this magazine he does not end up with articles that don't apply to him.
THE BEST OF THE BEST
This is a no B/S magizine for people who like to fish
Always informative
I have been an In-Fisherman subscriber from day 1 and still have some of the ad free "study reports". I find it to be always on the cutting edge with the latest information. I am currently devouring all there is on Doug Stange's swimbait fishing. I plan a trip to Crooked Lake (BWCA) in August and I will be well stocked with Hand Pours, Big Hammers and Lunker City Shakers and plenty of Owner saltwater bullet heads. I find something to learn and put to use in every single issue and still have most of them. Keep up the great work.
---