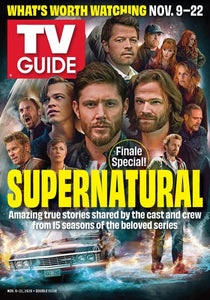 TV Guide
Print Subscription
Regular price
$39.96
$0.00
Unit price
per
TV Guide is now Full-Size, Full-Color, for people who are passionate about their favorite shows, characters, and stars. Plus, an easier-to-use national listings section with more highlights and reviews.
| | |
| --- | --- |
| Country: | United States |
| Language: | English |
| Publisher: | TV Guide Magazine, LLC |
| Frequency: | Weekly |
| Issues: | 56 |
bad tv guide
i would like to know who the bright person was who changed the tv guide did they forget that tv runs 24 hours a day and not 4 i was so dissapointed when i received it i'm ready to cancel my sub they miss half the issues and only list 4 hours a day and no numbers for the chanels like children are going to know that disney is 45 cartoon network is on 63 for what i pay i can go to tv guide channel and do just as good as trying to find something to watch and the price is included with my cox bill not something extra so after my sub expires i will not renew it if i have to go to the guide channel at 2 in the morning when i can't sleep why waste my money.#BR##BR# sandi g
T.V. GUIDE
It is a "MUST" to see when your favorite shows are coming back on line. I can't do without my T.V.GUIDE. When my cable company stopped sending it, you stepped in and seamlessly took up the slack.#BR##BR#Thanks!!!!!!!!!!!!!!!!!
TV guide is still #1
viewing TV without TV guide is missing a lot
Not like it used to be
I do not like that TV Guide no longer contains detailed tv listings around the clock. You can no longer view detailed lists of whats on TV 24/7 which is what it used to be about. Also, there are only a limited amount of descriptions of movies and not a synopsis of all movies as in the past. However, the in-depth stories about my favorite shows are excellent.
TV Guide Not what it used to be
I still miss the old TV Guide that was the size of a Readers digest, easy to grab and leaf through. The new one is just to magazine style for me. #BR##BR#they don't put complete details of the shows like they used to #BR##BR#nor do they show listings past 11pm for a late night person like me. #BR##BR#I also can't stand the grid style of listings. #BR##BR#I really only read it for an occasional entertainment value anymore . It seems the original purpose of the "TV guide was to be a guide for TV Listings" but they nixed all that info to a mere few pages in the book now.
---